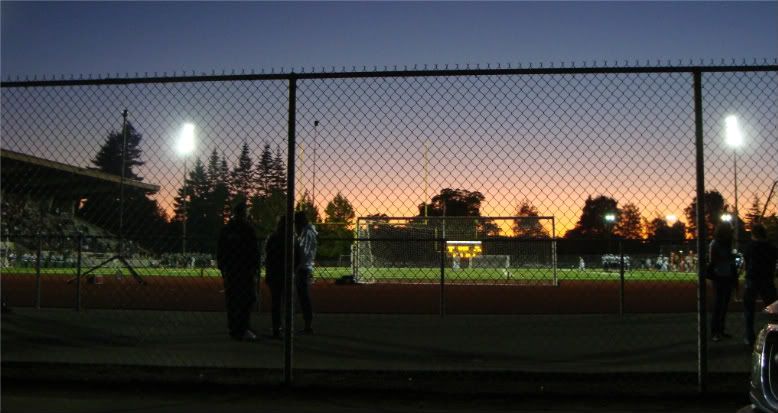 Last Friday night Jake and I were on our way home from work and drove past a high school football game. We drive past the Sparks stadium twice a day. This time was different. The sun was setting, it was still a little warm out, the band was playing, the lights were glowing, the stands cheering......
it was

Tyrell

dreamland.
I LOVED high school! Really loved it. I already love fall and I always loved the back to school excitement. But once I was in high school, I loved it even more with the addition of football. My
freshman
year was a blast, my sister was a junior and finally had a
crap car
of her own that taxied us everywhere. My freshman year was the year the nickname "
bigblevi
" was given to me. My maiden name is Blevins, and like you already know, my older sister doesn't have quite the "mountain range" that I do. So
bigblevi
was coined by a fellow classmate of my sisters.
My
sophomore
year was even better. The previous year I had tried out to be a cheerleader and spent the summer at cheer camp and learning 5,000,000 cheers. Football games were a blast. Seriously. Homecoming was probably the best week of my life every year.
My
Junior
year I now had a crap car of my own and even had myself a homecoming date! I already loved homecoming and fall football, but my
senior
year was by far the best. I was crowned homecoming queen during half time at the game. It was glorious. I can still re-live the moment. Ironically I didn't get a date until I pretty much had to ask somebody. Then the guy that was crowned homecoming king
was not allowed to dance
(not just for homecoming, but ever). I don't make these things up. So when we were at the dance, royalty was asked to come to the middle of the dance floor and...dance. Well seeing how my king was not allowed to dance, I was there alone and my date was in the bathroom. It was awkward. But those are the things that make life memorable.
Once during the powder puff football game,
I tackled a girl
WAAAAYYYY
after she made the touchdown. My bad!
So I loved high school, especially homecoming time....and to see the community gather to watch a game brought me back. Good times!