I think there is a part of me that will stay the same forever and ever. I like my birthday.
I REALLY LIKE MY BIRTHDAY!
I love checking the mail and getting birthday cards from my family (sometimes they even have money in them!)
I just wanted to share my some of my favorite birthday memories (in no particular order)
My Junior or Senior year my mom and sister snuck into the school parking lot and filled my crap car
full of balloons
and decorated the 1983 Subaru beauty. I drove home very slowly because I didn't want to loose a single balloon.
My Sophomore year (when I was a cheerleader) I had to cheer on my special day, so my mom surprised me and brought super delicious/homemade cupcakes with
pink
and white frosted animal cookies to school. Some friends decorated my locker too!
When I was pretty small, my Dad came for my birthday (he always came on my birthday) and gave me a cabbage patch doll. We stayed at the
Wapati Inn
in Durango and ate pizza for dinner. I "spilled" pizza on my brand new cabbage patch and it made a big stain on her outfit. The stain is still there.
My grandpa Dave once gave my step dad (Tim) two cans of soda with a
$100 bill
wrapped around each one for his birthday. I was so fascinated with the idea that on my birthday Tim gave me two cans of Fresca with
$1 bills
wrapped around them. I was a high roller that night!
Most years I requested that my mom make chicken fried steak and mashed potatoes for my birthday dinner. I also loved the store bought cake with those really gooey strawberries on top. What was I thinking?!
One year I was surprised with a bike for my birthday. It was a complete surprise (it is hard to surprise this investigator). Tim later told me they had been
hiding it
in the horse trailer for weeks.
Last year my wonderful friends at work decorated my space with TONS of balloons, a birthday banner, Gerber Daisies, a big gar of pink peanut M&M's, and a big pile of movies!
It was great.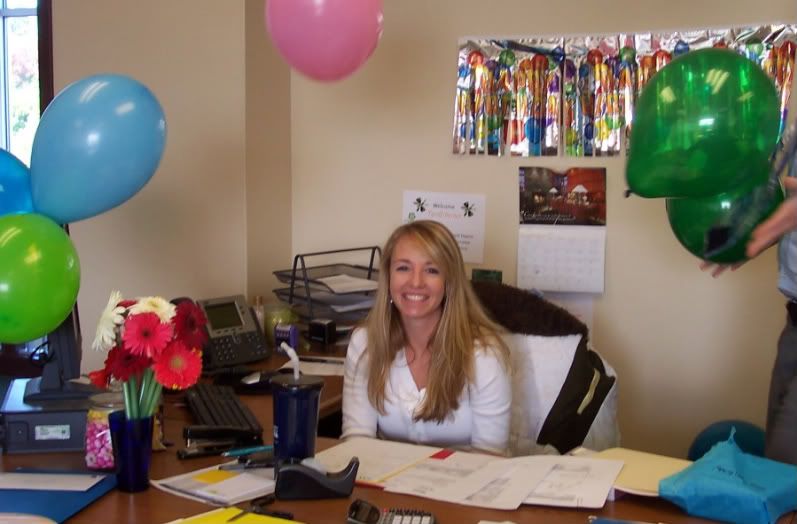 Once I saw a Barbie commercial and she had special colored moose to put in her hair. I asked my mom if she could get that for me. Growing up, my mom had to be very thrifty and asked if it would be okay is she just got me some regular moose for one of the Barbies I already had. I was honestly turning 5 and
I understood thriftiness.
It was probably one of the most valuable presents.
Tonight my lovely friend
Heidi
surprised me with
a reddish-pink
frosted (giant) cupcake at mutual. It was a perfect present on my 23rd birthday Eve.
I huge thank you for every one who has ever made me feel special on my birthday. (for reals,
Thank You
)