Jake and I have $9 to live off of for the next 9 days. We found a few treasures on Craigslist that ate up our food and gas budget. It really doesn't bother me that bad because we get to experience the blessing of living off of our food storage and riding to work together. Its amazing how much money you can save when you are forced to.
When I was a little girl, I had strange taste. Not only did I wear tie-dye jumpers and clown-like outfits, I had some weird taste for food. I LOVED waffles but hated pan-i-cakes, wouldn't eat a hot dog (still won't) for the life of me but liked corn dogs.
As I got older I would eat my mom's whole wheat pancakes and my dad's pan-sized pancakes with his boysenberry syrup and powdered sugar on them.
It was my Freshman year at BYU-I when I had some really awesome roommates. One of them had had a very large family reunion the previous summer and was equipped with the left over syrup and pancake mix. She ended up slipping on ice and breaking her leg....so she had to go home to California before the semester was over. She left me with the massive pancake mix and lifetime supply of syrup.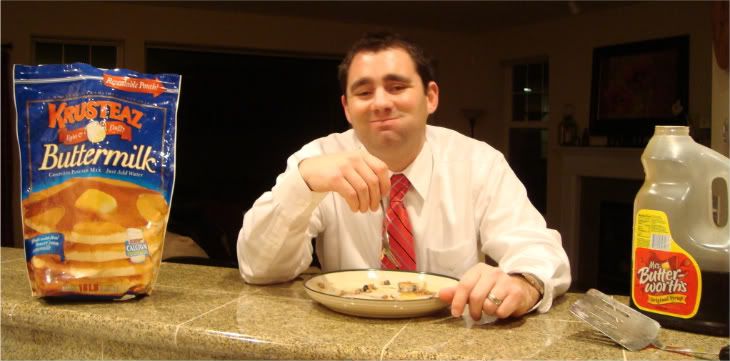 The pancake mix expired July 2007... but sometime I think they put an expiration date on things just because they have to. (They still taste good!)
So last night we had blueberry pancakes. They were very tasty and I think I might totally be over my disliking pancakes phase. Plus, you can see the pure delight in Jakes eyes (and cheeks!)...okay, he kind-of has this constipated look going on, but it was one of those "are you really going to take a picture right now" kind of faces.