There are times in our lives when other people change our perspective on life. They don't do it on purpose or even had the intention of changing anything.....but there are many people in my life that have done this to me.
One of those ladies is Margaret Spencer. She is the Young Women president in our ward and I happen to be one of her lucky counselors. When we first moved into the ward, I was tempted to hide out for a little while.... because I had a CRAZY primary calling in our last ward. It wasn't long before I was asked to teach the 12 and 13 year old young women. Margaret came over to my home to teach me a few things about each one of these girls and she ended up teaching me some things about myself.
Margaret's youngest children are as old as I am, so it seems like an unlikely friendship (but friendship is no stranger to Margaret Spencer).
The other day I got an invitation in the mail to attend her 50th birthday party. I went (and was the youngest guest) but had a great time. Margaret knows how to throw a party and have some fun! She has taught me many things about motherhood, dedication, sacrifice, friendship, love, charity, the gospel, and being a daughter of God. She doesn't know she has taught me these things, and that is the beautiful thing about Margaret! She is amazing. I hope I can develop some of her talents and attributes someday.
Oh, and she teaches preschool.....I am going to put our little guy on her waiting list...yes, waiting list.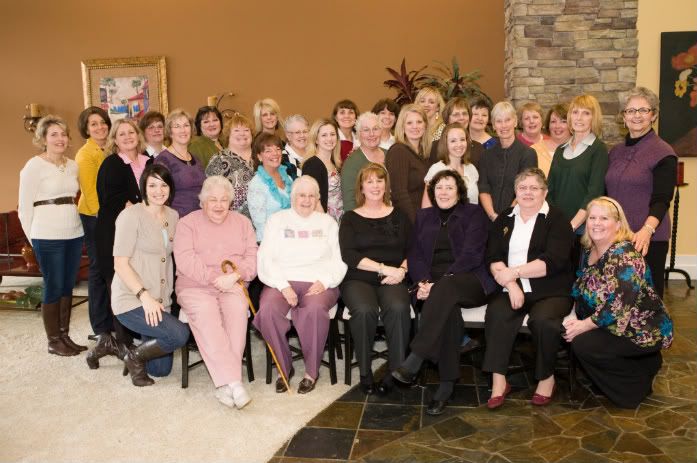 Margaret is on the bottom row in the middle....black shirt