Kindness is like glue....a little bit goes a long way. (Montana learned this song in 3rd grade and I've never been able to forget it..."a little bit of glue does a lot...")
I am a freak about checking the mail. I LOVE MAIL. Every summer day in Arizona, Montana and I would either ride our bikes or roller blade to the post office so I could check the mail. It was the highlight of my day (other than 5:30 when Dad got home). There are always surprises in there. Doesn't matter if it is a bill or a newspaper filled with coupons, I love it.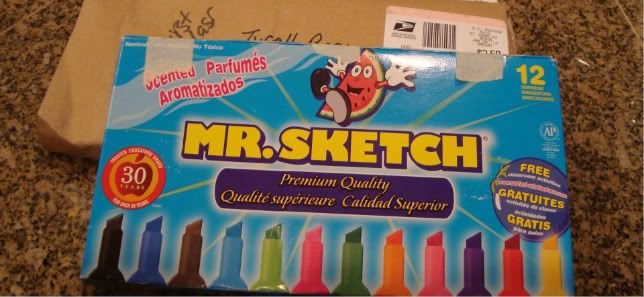 I got two very special things in the mail on Tuesday. I got a
box full of markers....smelly markers,
and a love note from a friend.
I can't tell you how happy I still am. I have spent my last two evenings getting weird looks from Jake. I sit (on the couch, floor, wherever) and take one cap off at a time and smell these markers. They are like nose candy.
Jake can't participate in this sheer delight because his sniffer is broken. He just doesn't understand.
Dear Son,
I hope
your
sniffer works
Love Mom
When my nose is done with the all-you-can-smell buffet, I read and re-read the card I got from my other friend. Her words = lots of love. I can't thank these two women enough for making my life so happy.
Thank you
Thank you
Thank you
for your kindness.