This weekend just flew by. So did January.
~
Jake worked all of Friday night and ALL DAY
Saturday
. I used to hate it but it doesn't bother me that bad anymore...I have tons of projects to do.
~
All of this late night/long hours working takes a toll on Jake
~
On Friday he asked me to stop by his accountants office to pick up some documents for him. He told the receptionist I would be coming and that I had
blond hair.
~
Then on a late night run to rent a movie, Jake comes to a red light. Instead of treating it as the stop light that it is... he stops... looks both ways, and then went. He had it in his mind that it was a
stop sign
.
~
This morning I asked him if I looked okay. He says "yeah, you look really cute." Satisfied, I start to put my shoes on and he says "but you don't look as cute as you did yesterday." He was trying to pay me a compliment on how I looked good yesterday but it
backfired
on him and I tried on a billion more things... making us late for work.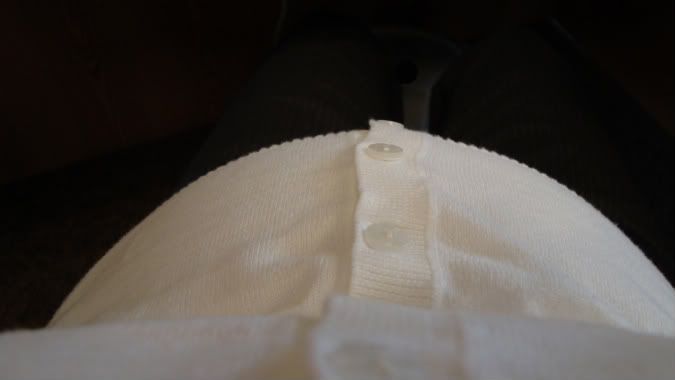 (The view I get looking down on my tummy. Don't you love how the fabric between the buttons is starting to pull apart!)
~
Its only
Monday
but we are already looking forward to the weekend!