We all have special talents, abilities, and gifts. Mine? A very good selective memory.
I can hardly remember anything that has to do with history, the government, politics and the like... but I can remember the price of almost every item I have purchased at the Goodwill. Great gift, right?
I have a pretty bad memory when it comes to the important things. That's why I write them down. I really get a kick out of reading my journals from the past... and especially reading old blog posts. I really love blogging because it has 3 purposes. Journal/memory keeping, scrap booking /pictures, and socializing. It's a genius idea really.
So I've been growing a garden in my craft room for the past several weeks and I've been a tiny bit obsessed with it. I spend so much time in there, I take a lot of pictures too. I decided to make a blog just for my garden so I could write down everything that I learn... so I won't forget. I can just picture myself trying to recall what time of the year I planted peas outside and the only think that pops into my head is the price of the new toy I bought at the GW.
I named the blog
Growing A Thumb
because I don't know if I have a green thumb or a brown thumb at this point. You are welcome to follow it.
http://www.growingathumb.blogspot.com/
. And if you want to get real crazy you can steal my button. I'm not a professional blogger (although I wouldn't mind) and I don't have a giveaway or a good reason to persuade you to take my button... the only reason would be that you want to.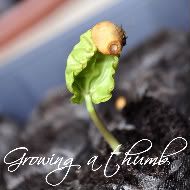 (Let me know if you'd like instruction on how to paste the code onto your sidebar.)